Security is a critical field that's always in demand. Those interested in becoming security guards want to protect their local community and businesses, and people and companies are always looking for trustworthy help. Becoming a qualified Florida security guard can open up new opportunities and allow you to start a career as soon as possible.
Florida has specific requirements for security guards, many of which overlap with other states. However, some conditions are specific to Florida. You'll need to understand and fulfill these regulations before applying for an FL security guard license. You can learn more about how to become a security guard in FL below.
How to Get a Security Guard License in FL
Regardless of whether you want to work as an armed or unarmed security guard in Florida, you must obtain a security guard license. While working as a security guard, you'll always need to keep your license and corporate ID on you.
To get a security license in FL, aka a class D license, you must meet specific requirements. Once you fulfill all these criteria, you can apply for your license in person, online or by mail. You'll also need to remember to renew your license before your expiration date, or you will have to restart the application process before you can continue working as a security guard.
To apply in person, you must schedule an appointment with the regional office closest to you. People who choose this route do not have to complete their applications in advance. Alternatively, you can finish your entire application process online. You can also print your application, fill it out and mail it to the Florida Department of Agriculture and Consumer Services.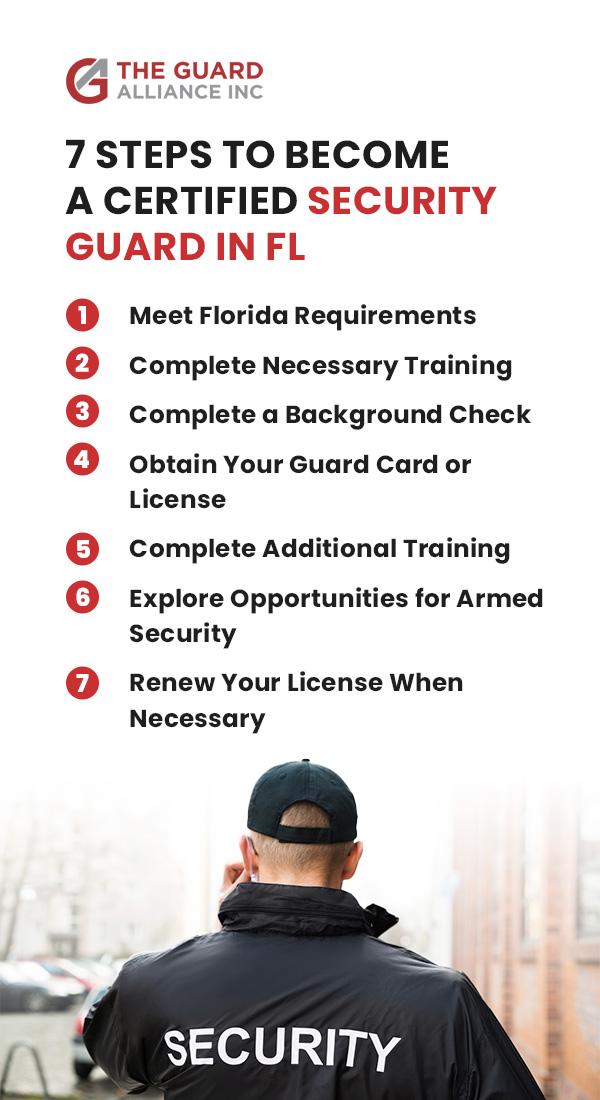 7 Steps to Become a Certified Security Guard in FL
Becoming a security guard in Florida can be a rewarding career. The steps to becoming a certified security guard in Florida are below.
1. Meet Florida Requirements
You must meet specific requirements in Florida to get your security guard license.
Age: Florida security guards must be 18 or older to apply for their license. If you are under 18 but want to become a security guard, you can start researching and preparing for the training so you can apply as soon as possible after turning 18.
Criminal history: If you want to become a security guard in Florida, you can't have a criminal record. However, you can challenge your criminal background check if your application gets denied. The Florida Department of Agriculture and Consumer Services will perform the check, and you must authorize the department to complete it. Additionally, you must submit fingerprints to apply for a security guard license.
U.S. citizen verification and passport photo: Only U.S. citizens or those authorized to work in Florida can apply for a security guard license. Your application must include proof of citizenship, including government IDs. You'll also need to submit your passport photo in your application.
Language: Security guards in Florida must know how to speak and write in English.
Mental health: Florida security guards in Florida can't have any diagnosed mental health conditions or substance use disorders. The Florida security guard application provides more information on mental health restrictions.
Security license course: To apply for a Florida security guard license, you must complete 40 hours of a state-approved security licensing course. You can find a qualified training provider through the Florida Department of Agriculture and Consumer Services.
Specialized security guard training: You can enter a specialized security field, such as armed security
. However, you'll need to complete additional coursework to qualify.
Application and fees: You can complete an online application or schedule an appointment in person at a regional office. All applications also have a fee of $45 for a new license application. You'll also need to pay for the background check, which is $42.
2. Complete Necessary Training
Florida security guards must complete the required training, including 40 hours of professional training from a licensed training facility or security officer school. However, there are some situations where you may not need to complete the 40 hours of training, usually if you have equivalent experience. Some of these situations include:
If you have previously worked as a probation, correctional or law enforcement officer.
If you have completed training as part of a probation, correctional or law enforcement officer training program.
If you have experience that satisfies the licensing requirements.
If you have relevant military education or training.
You can learn more about the experience expectations and the various exceptions on the Florida security guard application.
3. Complete a Background Check
All security guard applications require a criminal background check. You'll also need to submit fingerprints to the Florida Department of Agriculture and Consumer Services, which you can usually do at a regional office near you. Florida security guards cannot have a criminal record or a history of mental illness to apply for their license. You can challenge inaccurate background check results if your application gets disqualified.
4. Obtain Your Guard Card or License
Once you've submitted your background check, fingerprints and application, the Florida Department of Agriculture and Consumer Services will handle your paperwork. This process can take anywhere between four to six weeks, though some factors can delay it, including:
Inaccurate or missing information
Unpaid application fees
Rejected fingerprints or background checks
If you need to remedy any problems with your application, you may need to wait additional time to receive approval. Once the department approves your application, you'll receive your guard license, and you can work as a security guard in Florida. The license will be eligible for two years before you need to renew.
5. Complete Additional Training
While supplemental training isn't usually necessary for most security guard positions, it can increase your eligibility for employment opportunities. Additional training programs may include security for specific industries, including health care or events. You'll also gain a competitive edge against other security guards, even when not applying for specialized positions.
6. Explore Opportunities for Armed Security
You may be interested in working as an armed security guard, which requires extra licensure and education. Guards who want to work in armed security will need to obtain a Class G Florida security license, which includes 28 additional hours of training, consisting of firearm instruction from former law enforcement and military personnel.
Armed security guards will have more opportunities, but they'll also have more responsibilities on the job. You'll likely need to undergo an intensive background check and demonstrate your firearm safety and shooting knowledge.
7. Renew Your License When Necessary
Florida security guards must renew their licenses every two years. You'll receive a notification in the mail before your license expires, so you should ensure your mailing address is always up to date. Generally, you can expect your renewal notice to arrive 90 days before your license expires. You should renew your license 60 days before the expiration date, and if you miss this window, you'll have to start the application process over.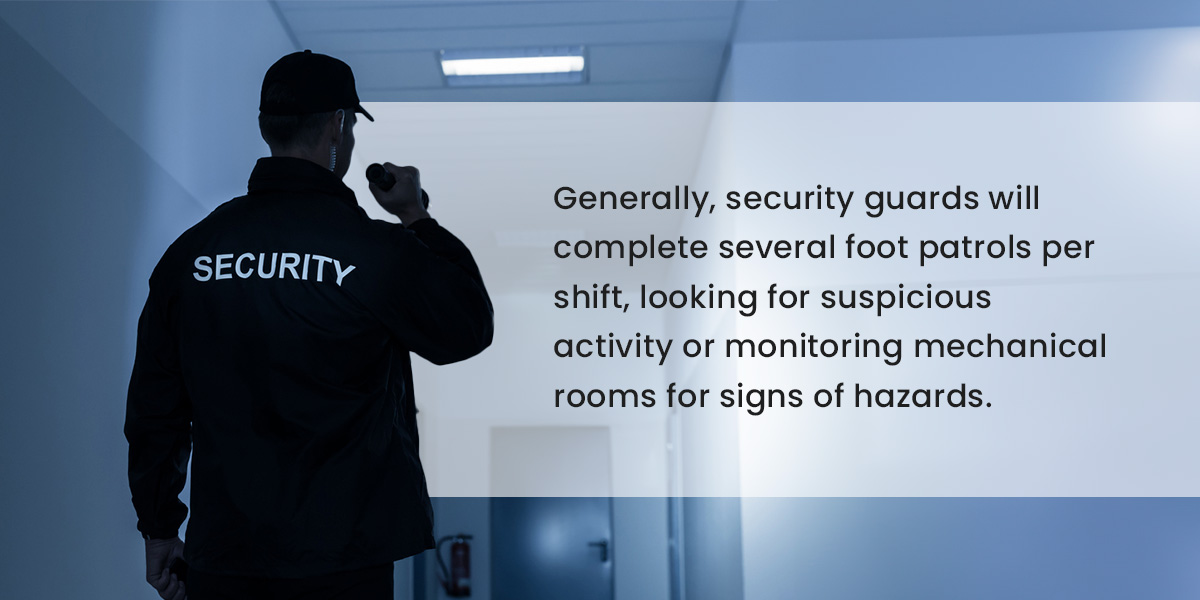 What You'll Do as a Security Guard in Florida
Your job's specifics will depend on where you work, but many tasks overlap in most security guard positions. Generally, security guards will complete several foot patrols per shift, looking for suspicious activity or monitoring mechanical rooms for signs of hazards. Often, Florida guards watch for danger and fill out regular reports, which they deliver to supervisors.
Florida security guards may also monitor fire extinguishers and check their expiration dates to ensure they operate correctly during an emergency. Security guards can expect to write a lot, including logging their activities, unusual activity and incidents.
Florida security guards are also responsible for responding to incidents or alarms as outlined by their supervisors. Different responses include:
Aiding in evacuation
Monitoring and checking alarms
Responding to emergencies and writing incident reports
Contacting supervisors or managers during incidents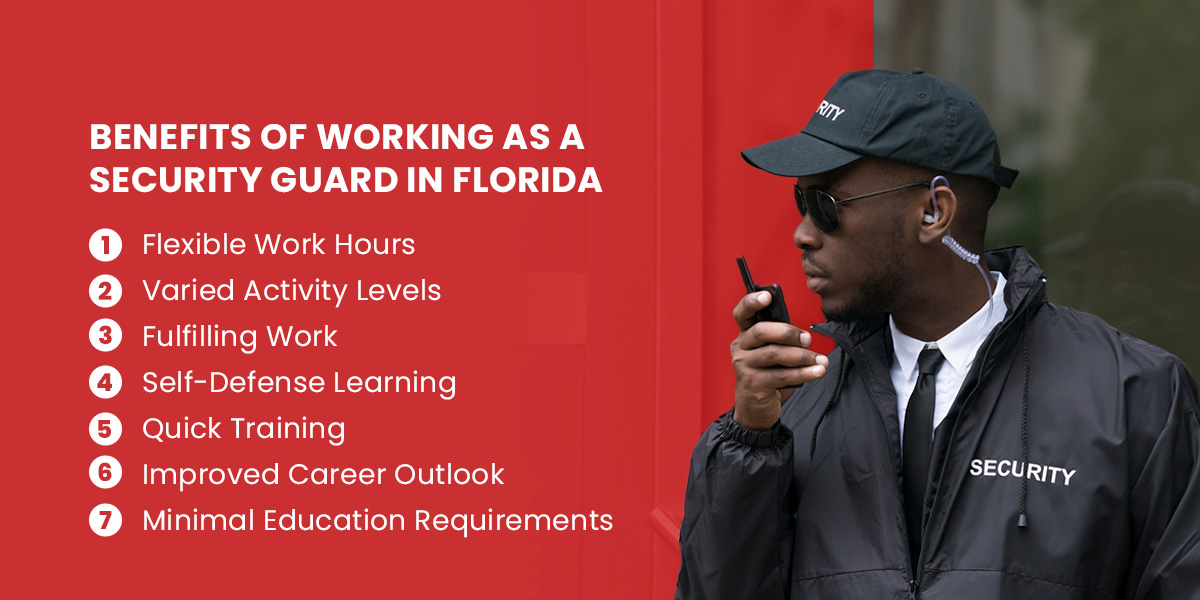 Benefits of Working as a Security Guard in Florida
Becoming a security guard can be fulfilling for many people, and the job has plenty of advantages that make the training worthwhile. Some of the most notable benefits of working as a security guard include the following.
1. Flexible Work Hours
Many security guards can choose from flexible shifts rather than working the typical nine-to-five job. For example, you might want to pick night shifts or weekends, depending on the best schedule for your lifestyle. You may work full shifts or shorter shifts, depending on your job.
You could also work during the holidays, earning additional bonuses and experience for career growth. If you're looking for a more manageable work schedule to suit your needs, a security guard position in Florida could be right for you.
2. Varied Activity Levels
Security guards spend a lot of time on their feet, whether completing patrols or investigating different hazards or emergencies on site. As a result, this work could be an excellent choice for someone who enjoys staying active throughout the day. You can stay in shape while earning a living.
However, some security guard positions require monitoring computer screens, which is more sedentary. While you may be on your feet when responding to situations, most of your workday may involve sitting. You can get the best of both worlds or choose a desk-based job, depending on your preference.
3. Fulfilling Work
Many people find fulfillment in security guard work, since they're providing an essential service to their employers. Florida security guards are responsible for guarding anything from money and valuables to property and business assets. You may even be in charge of protecting trade secrets that are critical to a business' success.
Many security guards feel satisfaction knowing that they're preventing criminal activity. Some companies even offer unique benefits to show their appreciation to security guards, such as competitive wages or comprehensive benefits packages.
4. Self-Defense Learning
Security guard positions allow people to learn self-defense, which comes in handy in everyday life. If you seek additional training to become an armed security guard, you'll also develop the skill to safely own and operate a firearm. You'll be able to better protect your work environment and your home with the skills you learn during security guard training and employment.
5. Quick Training
Compared to other jobs and trades, the training requirements for a security guard take up less of your time. You can quickly complete the coursework and obtain your license, seeking supplemental training afterward if you want to go into a more specialized form of security guard work. The short training time can allow you to switch careers quickly or start a new job right out of high school once you turn 18.
6. Improved Career Outlook
Security guard work is an excellent entry-level job with many advancement opportunities. Unlike many other positions, you can quickly climb the ladder into higher-paying jobs in various industries. The skills you develop as a security guard can also apply to other jobs, such as cybersecurity specialists or correctional officers.
While you may need to pursue additional education or training, the experience you gain as a security guard can help you advance into more specialized jobs or enter another field. You can also network with other industry professionals, opening different opportunities for advancement.
7. Minimal Education Requirements
Generally, becoming a security guard doesn't require a degree unless you want to work in a management position, so you won't need to worry about attending a college or university. In most cases, you'll only need a high school diploma or a GED. These minimal education requirements mean you don't need to go into debt for student loans and can immediately start a new career once you complete your training.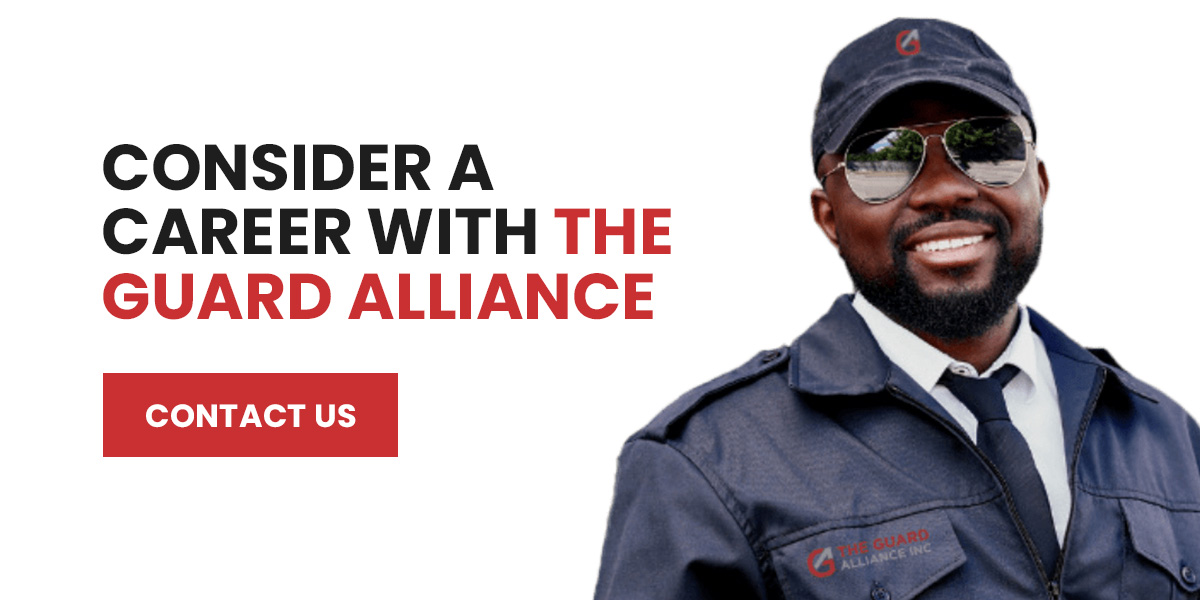 Consider a Career With The Guard Alliance
If you've recently become a security guard or are looking for potential job opportunities, The Guard Alliance can help you start a fulfilling career. We are a security guard company dedicated to providing our clients with the peace of mind they deserve. We offer a wide range of security services, from personal protection to corporate security, so you can find a position that meets your career goals.
We take the stress of safeguarding yourself and your valuables out of your hands so you can focus on what truly matters. Complete an application today or contact us to learn more about our company!