Security is a critical and rewarding career. Anyone looking to maintain safe environments and protect local people and property can enjoy a career in security. With plenty of people and property in need of protection, there's always demand for qualified, experienced security professionals.
California has specific regulations and requirements for individuals looking to work as security guards in the state. It's essential to meet these requirements if you want legal work as a security guard in California. Let's look at how to become a security guard in California to help you get employed successfully in security.
How to Get a Security Guard License
Getting your security license in California involves several steps. While the process isn't particularly long, you do need to remain on top of your training and renewal process to ensure all your paperwork checks out. If you're 18, a United States citizen and have a clean record, you're eligible for California's training and registration process.
Following all these requirements enables you to begin your Power to Arrest training. Successfully completing training lets you submit your application. Once submitted and accepted, you'll receive your guard card and can start looking for security guard employment in California.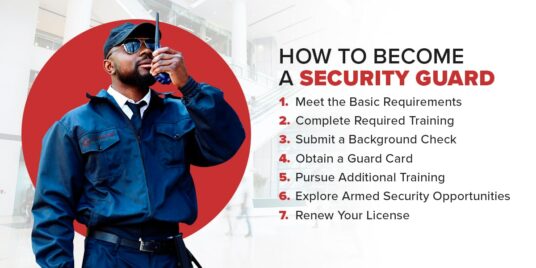 How to Become a Security Guard
Obtaining a California security license requires meeting some basic requirements, passing training and ensuring you renew your registration regularly. Security guards are privately employed to protect people or property or to prevent theft for their employers. California regulates security guard qualifications through the Business and Professions Code Section 7582.1.
1. Meet the Basic Requirements
You must meet several basic requirements before you can apply for registration through the Bureau of Security and Investigative Service (BSIS). After meeting these requirements, you can apply for registration:
Be at least 18 years old.
Complete a background check through the Federal Bureau of Investigation (FBI) and the California Department of Justice (DOJ).
Complete Power to Arrest Training.
A private employer might ask you to show proof of a high school diploma or the equivalent. While a degree isn't required to receive the guard card by California, many employers require some education. Make sure to research employers during or after applying for a CA security guard license in case there are further requirements.
2. Complete Required Training
California law requires all security guards to complete specialized training. Training can be administered by a California BSIS-certified training facility, a BSIS-approved course provider or a Private Patrol Officer. Some training must be finished before applying for registration, while others are completed during or after receiving your guard card.
Required training includes:
Power to Arrest training completed before receiving Security Guard Registration.
Thirty-two security guard skills training hours completed within six months of registration.
Eight continuing training hours completed annually after registration.
After completing training and registration, all California security guards are required to maintain completion certificates for required training as long as they hold a valid registration. If your guard registration is canceled or expired, this is no longer necessary.
3. Submit a Background Check
Applicants looking to receive their registration must submit to a background check and fingerprinting through the California DOJ and the FBI. Use the Live Scan Service form on the BSIS website and get your fingerprints taken at the proper location to ensure everything is processed correctly.
You must have no disqualifying offenses or criminal record to become a security guard — submitting to fingerprinting, and a background check helps ensure you are eligible for a security guard role in California.
4. Obtain a Guard Card
After you've completed all the required training and have submitted and passed the background check, you're eligible for a guard card application. Applicants can submit online through BreEZe or by mailing the application and fee to the BSIS. Once submitted, it'll take four to six weeks to process your application without delay.
Some applications might be delayed due to the following:
Missing or inaccurate information
Outdated form submission
Unpaid or incorrect fees
Rejected fingerprint submissions
You'll receive your guard card once you've corrected any delay issues.
5. Pursue Additional Training
Anyone looking to become a security guard should also complete additional training. Supplemental training opportunities aren't mandatory, but they can help open doors to more specialized security training jobs. Specialized training programs include event, retail or health care security. Further training gives you a competitive edge over other applicants, making you more desirable in the security job market.
6. Explore Armed Security Opportunities
Baton training and firearms training are two common additional armed security training courses that many applicants pursue. Armed security training enables you to work more specialized security jobs and can help increase your qualifications for higher-paid positions.
While unarmed security guards are employed for lower-threat situations, armed security guards are used for higher-threat cases. You may need additional security training depending on the type of work you're looking for.
If you're interested in exploring armed security opportunities, you must obtain a firearms permit. Armed security guards have increased responsibilities and undergo more intensive background checks. Additional firearms training teaches trainees about use of force laws, practical shooting skills and firearm safety.
7. Renew Your License
After completing all training and getting your guard card, you must regularly renew your license. You'll receive a renewal notice in the mail before your license expires. Make sure your mailing address is always up-to-date to ensure you receive your notice on time.
The message to renew will arrive 90 days before your license expires. By law, you're required to renew within 60 days of expiration. Guard registrations not renewed within 60 days are canceled and can't be renewed — you have to submit a new application.
Keep renewing your registration to ensure you maintain your security guard position. Without renewal, you can't continue working as a security guard in California.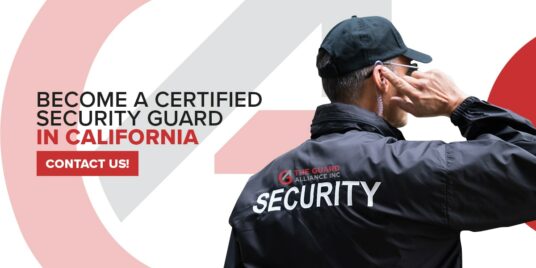 Become a Certified Security Guard in California
As a state-licensed, fully-insured security guard company, you can trust The Guard Alliance for all your security guard needs. We provide unarmed security guards, armed security guards, patrol vehicle guards and fire watch services to clients in states nationwide. Whatever you need, you can count on our specialists to provide comprehensive security services for every situation.
All The Guard Alliance professionals undergo extensive training programs and regular update courses to ensure they're ready for every situation. Our employees specialize in de-escalation, protecting your site while keeping the environment as safe as possible. If you're looking for unmatched safety solutions, contact us online today.