There is ample opportunity for working in the security industry in New York, but getting a foot in the door may seem like quite the undertaking. Each state has unique requirements for working as a security guard and receiving a security guard license. This guide outlines how to become a security guard in New York.
Registering as a Security Guard in New York
Anyone aiming to become a security guard in New York must register and train as a security guard in the state. The New York State Department Division of Licensing Services handles all security guard registrations. The Division of Licensing is the department to which you will submit your application for a security guard registration card.
The Basic Requirements
The essential prerequisites for becoming a security guard are mostly standard across all states. Some of the basic requirements you must meet if you want to apply to work and train as a security guard in New York include:
Age, citizenship and language: The standard conditions to become a security guard in New York include being over 18 years old, being a United States citizen and being fluent in English.
Background check: You should have no previous record of drug use or other criminal activity. You also cannot be under criminal investigation at the time of application.
Mental health: To be a security guard, you should be in good health and have no history of mental health conditions or substance use disorders.
Education: You must have a GED or high school diploma to apply.
Approved training: You must complete mandatory training to get a security guard license in New York.
Application fees: Consider the fees you must pay for your license. When you first apply, you must pay an initial application fee and a fingerprint fee. There will be extra fees to pay as your career progresses, including fees for employment status notification or change of status.
Completing Mandatory Training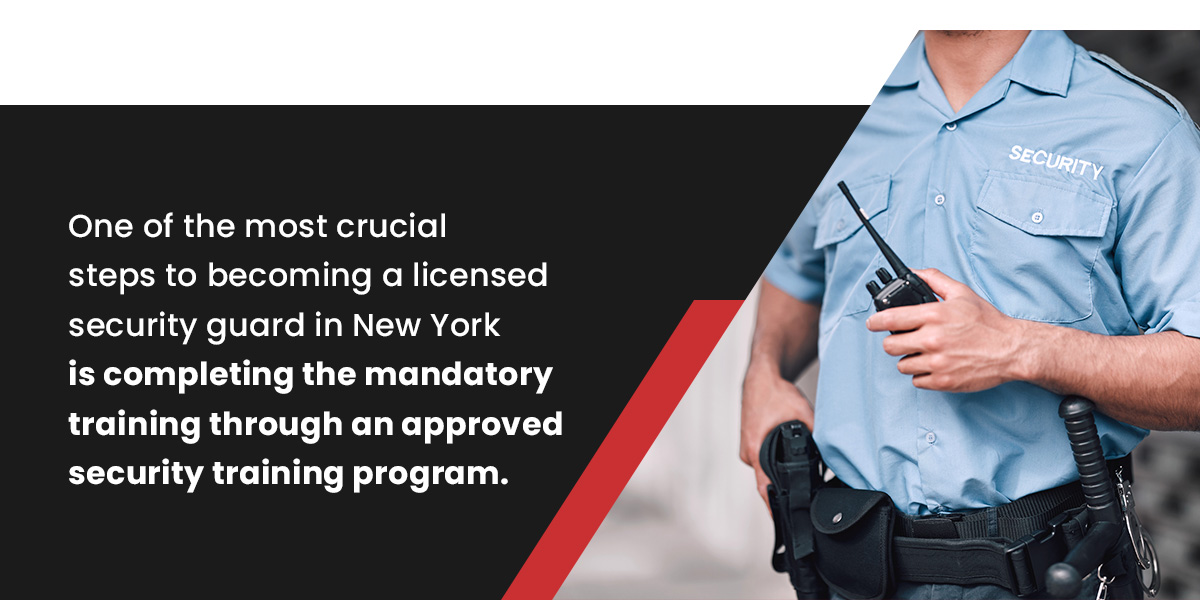 One of the most crucial steps to becoming a licensed security guard in New York is completing the mandatory training through an approved security training program. Whether you aim to work as an unarmed or armed guard, you must complete mandatory training to get a security license in the state.
These are the training requirements for unarmed security guards in New York:
You must complete an eight-hour pre-assignment training course before you apply to the Department of State for your registration guard and before you get hired as a security guard.
When you have your registration, you must follow up the eight-hour training with a 16-hour on-the-job training module. You have to do this training within three months of being employed as a security guard.
Training requirements for armed security guards in New York include:
If you apply to be an armed guard, you must have a New York firearms license, which has its own set of requirements.
There is a 47-hour firearms training course for security personnel you must complete before you apply for a special armed security guard registration card.
There is an eight-hour in-service training module for armed security personnel you have to complete annually.
You may need to meet other training requirements to enter specialized security fields.
Getting Hired as a Security Guard
Once you have your New York security license, you can realize your career path as a security guard. There are many job opportunities in the security field, whether you're interested in providing private services for an individual or working at a New York security company to cover an array of security tasks.
A day in the life of a security guard can vary depending on the position. Here is a look at some of what a security guard does:
Patrol vacant sites and sites with occupants — both on foot or in vehicles.
Respond to alarms.
Check that alarm systems are working.
Evacuate security sites.
Correspond with building supervisors.
Draw up daily incident reports.
Take care of a site's cleanliness.
Monitor security gates.
Assist with various non-security tasks, such as giving directions.
Enforce a site's laws by ensuring visitors follow prohibitions on drinking, smoking or playing loud music.
Assist in emergencies, including detaining culprits and phoning emergency services where necessary.
Keeping Your Certification Updated
A security guard registration card is valid for two years in New York. You can start renewing your license 90 days before it expires. Keeping your license updated is crucial, as it ensures you're still able to legally work as a security guard. You can update your name or residence by submitting a change of notice form and the required fee.
Benefits of Being a Security Guard in New York
Working in security can provide you with numerous benefits, including:
Many opportunities: Countless industries need security services across the state. The potential for someone with a New York security guard license is almost endless. Security guards in New York have the opportunity to work with law enforcement agencies as special officers. With the right know-how, skills and networking, you can find many job opportunities and enjoy career growth.
A broad range of clients: New York State is a diverse landscape in every aspect — the security industry included. Working as a security guard in New York will connect you with various people and places.
Specialized training: Security officers need to be in good shape to handle the physical and mental demands of the job. You will learn invaluable skills during your training.
The chance to serve: When you become a security officer in New York, one of the most rewarding aspects is having the opportunity to keep people and property safe.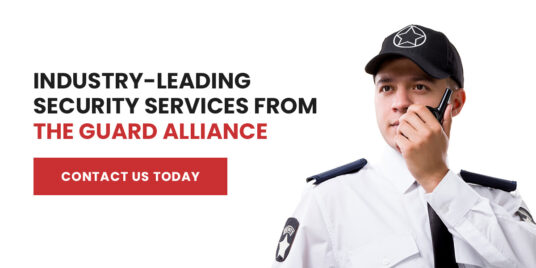 Industry-Leading Security Services From The Guard Alliance
Are you ready to become a certified security guard in New York? Entering the security field is a rewarding experience with plenty of opportunities to expand your career. The Guard Alliance is a minority-owned security company that serves our team with top training opportunities. We also serve our clients with quality armed and unarmed services they can rely on.
You can find fulfilling and diverse work as a security guard with us. We provide training and continued education so you can expand your career and reach your best for our clients. Our training equips you to serve in different aspects of the security industry and build a diverse portfolio. Discover career opportunities at The Guard Alliance or explore our security services by contacting us today.