SECURITY GUARD COMPANY IN ORLANDO, FL
Living in an environment without security leaves you susceptible to threats and physical danger. That is why securing your property, business, or family in Orlando, FL, with a quality security guard service or fire-watch service is crucial. A reliable security guard company in Orlando not only ensures the safety of your commercial property or residential property but also identifies potential hazards so that you can take the necessary precautions. The mere presence of a well-dressed and equipped security guard can deter criminal activity on your property. Our security guards are trained in various crime prevention techniques to deter burglars and other criminals from targeting your property.
About Our Orlando Security Guard Company
The Guard Alliance is a reputable security guard company in Orlando, FL, and expanding rapidly throughout the country. The company was founded over a decade ago by a former security guard and mathematician with extensive experience in the security industry. Since then, we have consistently delivered high-quality security guard services to businesses and individuals in Orlando. We only work with exceptional security personnel who meet our standards of innovation, professionalism, and readiness. As one of the most dependable security guard companies in Orlando, you can expect to receive both value for your money and peace of mind with The Guard Alliance.
What Makes Our Orlando Security Guard Company Unique?

No Long Term Contracts
The Guard Alliance Inc offers services on a flexible, as-needed basis and does not bind clients to long-term contracts. Customers can modify their schedules or terminate services whenever necessary. As a reputable security guard company in Orlando, FL, we take great pride in our professionalism and the quality of our guards, which explains our exceptional rate of client retention.

24-Hour Dispatch Center
Recognizing the importance of a reliable dispatch center that operates 24/7 for security or fire watch firms in Orlando, FL, we have established our own dispatch center. Our dispatch center allows clients to provide us with last-minute instructions or report incidents, which assists us in responding to emergencies, handling call-offs promptly, and ensuring the safety of our field guards in real-time.

GPS Monitored Guards
We utilize an advanced guard tour system to monitor the real-time activities and patrols of our guards in Orlando, FL. The system tracks their movements, clock-ins and outs, breaks, patrols, scan checkpoints, and incident reports with photos and videos. The GPS feature allows us to create a geofence around your property, and our 24-hour dispatch center is alerted when a guard exits this area. We compile all of this information into a daily report that is automatically sent via email to our clients every morning, keeping them updated on their property's status. As a top security company in Orlando, FL, we prioritize the close monitoring of our guards' activities to ensure our clients' safety.

License – Bonded – Insured
The Guard Alliance Inc in Orlando, FL, is licensed, bonded, and insured beyond the minimum requirements set for security guard companies. Our insurance policy covers up to $1 million per occurrence ($3 million), exceeding the standard limit. Additionally, we can obtain additional policy coverages for special assignments upon client request.
Security Guard Services in Orlando We Provide
The Guard Alliance offers exceptional security services in Orlando, FL, with a team of highly trained and experienced security personnel. We provide a variety of services, including unarmed guards and armed guards, fire watch services, and onsite security guards with patrol vehicles. Our unarmed guards maintain order without the use of weapons, while our armed guards provide a higher level of protection. Our fire watch guards are trained to identify potential hazards, and our onsite guards with vehicles provide mobile security. Our company's diverse range of services is tailored to meet the specific security requirements of our clients in Orlando, FL.

Choose The Guard Alliance for Your Orlando Security Guard Services
If you're looking for dependable and expert security guard services in Orlando, The Guard Alliance is the optimal choice. We have a team of experienced and well-trained security personnel committed to delivering excellent security solutions to our clients. The Guard Alliance is the preferred security guard company in Orlando for those seeking reliable and trustworthy security services. If you have any inquiries or need a quote, please don't hesitate to contact us. We're always available to help you.
Contact Us!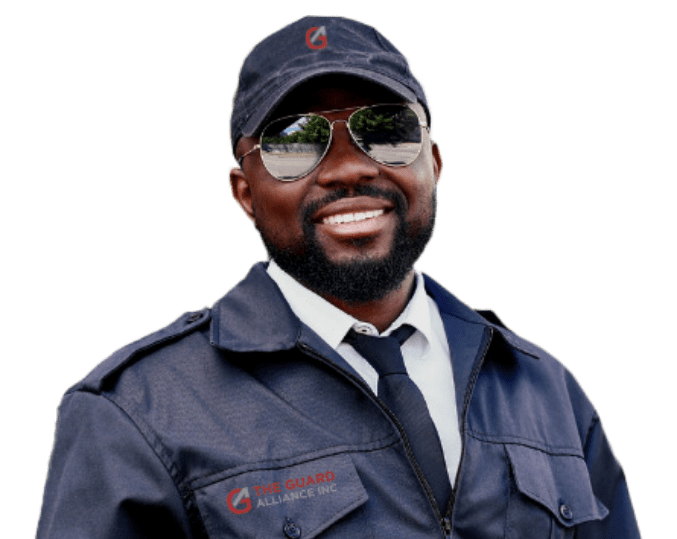 Contact The Guard Alliance for a Free Security Guard Quote in Orlando
If you require security guard services in Orlando, contact The Guard Alliance today to receive your free quote!