Working as a security guard is a rewarding opportunity. Now more than ever, people take their security seriously — from corporations and prominent individuals to families that want to keep themselves and their homes safe. No matter where you're located, there will always be a demand for qualified security personnel.
Each state has specific requirements to become a security guard. If you plan to work as a security guard in Pennsylvania, use our guide below to ensure you take the proper steps to start your career.
Working as a Security Guard in Pennsylvania
You can work as either armed or unarmed security guards in Pennsylvania. Here are the basic requirements you will need to meet to become a security guard in this state:
Age, citizenship and language: The standard requirements to become a security guard in Pennsylvania include being over 18 years old, a United States citizen and fluent in English.
Background check: You should have no previous record of drug or alcohol dependency and no felonies. You should also not have a history of substance use disorder or mental health conditions.
Education: You must hold a GED or high school diploma.
Approved coursework: You must complete a training course approved by the state before you start working. You can find accredited courses online, and the company that eventually employs you can guide you through this process.
Applications and fees: Consider the application process, including the fees you must pay for your license. You must attend an in-person test to evaluate fitness and other physical competency requirements.
Though you need to complete a minimum Level II training when you start working as a security officer, the state does not require you to have prior experience to apply for security guard training. Additionally, as an unarmed security officer, you do not need extra training apart from Level II during your first year of employment.
You also do not need previous experience to start the training to work as an armed security guard. However, you must renew your Lethal Weapons Act 235 Card — which authorizes you to perform as armed personnel — after your fifth year as an armed security guard.
To begin your career, you will need to obtain a Pennsylvania security guard license to work as an unarmed guard. From there, you can decide to pursue further training to advance your career or become an armed security officer in Pennsylvania.
How to Get a Security Guard License in Pennsylvania
Working as a security officer in Pennsylvania requires a security guard license, which you can obtain by petitioning the Pennsylvania County Court.
The best way to complete this process is to go through a security company that can petition for a Pennsylvania security license on your behalf — being hired by a Pennsylvania security company and then embarking on certification and training can be a simpler route. You could also find an ad-hoc attorney to assist you through the process.
Here are a few steps you will encounter in this process:
You must submit fingerprint order cards to the Clerk of Courts.
You must submit valid identification, such as your driver's license or passport.
You may need to have references vouch for your moral character.
You must undergo a criminal background check.
You must pass drug and mental competency tests.
3 Steps to Become a Certified Security Guard in Pennsylvania
Once you obtain your security guard card and complete the necessary requirements, you can take the next steps in your career as a security guard.
1. Apply for Jobs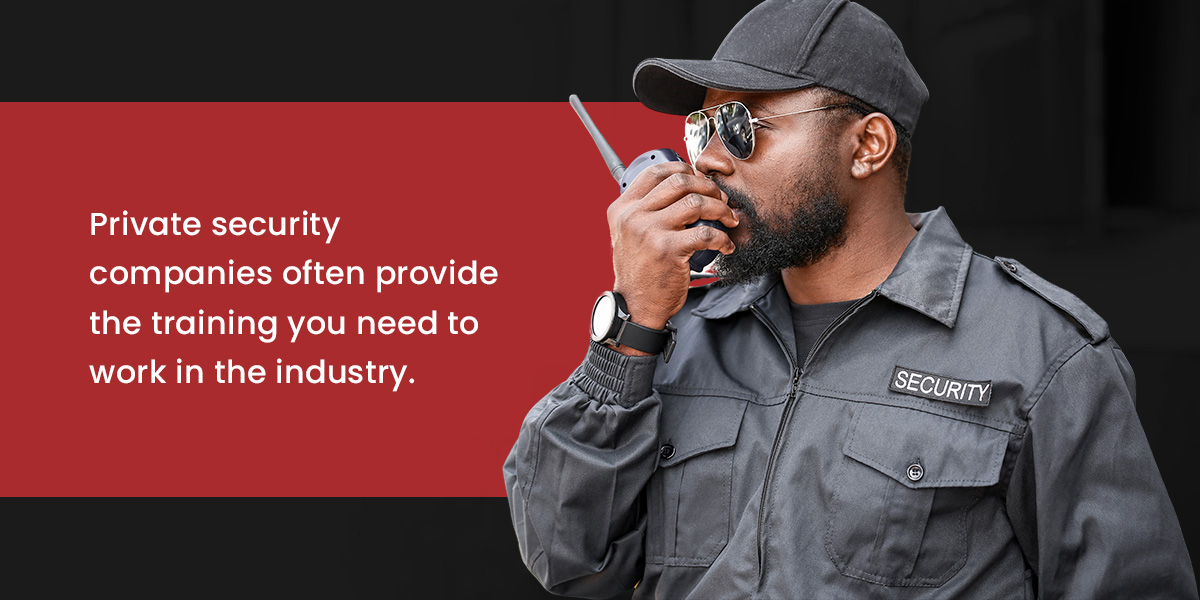 One of the best parts of getting employment as a security guard is that you get to embark on your training and start your career growth. Private security companies often provide the training you need to work in the industry. Additionally, petitioning the courts for your security guard license is simpler when a company does so on your behalf.
Improve your chances of being hired by following best job application processes when you apply for jobs with private security companies:
Make sure you meet the company's requirements — many will overlap with the requirements to get your license.
Have a professional resume.
Include all your background checks in your application.
Have references from previous employers, photo identification and a well-written motivation that supports your application.
Submit proof of an application for a license if you have started one.
2. Complete Training
You can complete your training after you find employment. Level II training is the most basic and covers standard tasks such as observations and reporting. Level II security guards usually patrol gated communities, schools or hospitals. You will receive a certificate of completion after your Level II training.
If you aim to work as an armed security guard, the next step is completing Level III training. Level III training gives you the specialized expertise to handle weapons on the job. This training authorizes you to provide security for high-risk industries such as cash-in-transit, broadening your career opportunities.
Level IV training qualifies you to work as a personal protection officer, otherwise known as a bodyguard. Level IV training is a rigorous process, as clients rely on you for their protection and the protection of their homes, families and workplaces. Clients invite you into their personal space and need reassurance that they have only the most highly-trained and reliable personnel.
3. Keep Your Certification Updated
You worked hard to become a certified security guard in Pennsylvania. It's imperative that you keep your certification updated so that you can continue to work without legal complications. Security officers in Pennsylvania must renew Act 235 certifications every five years.
Benefits of Being a Security Guard in Pennsylvania
A life in security calls for hard work, dedication and sacrifice, but it is a rewarding experience that offers many benefits:
Security jobs are in demand: Safety matters, both to individuals and corporations. With the right know-how, skills and networking, you can find many job opportunities and enjoy career growth.
You get specialized training: As a security officer, you learn invaluable self-defense skills that keep you mentally and physically fit. These skills make you an asset to people who want to protect themselves and their resources.
The security industry is accessible: Security is an excellent starting point for career-driven individuals who don't have much formal education or advanced degrees.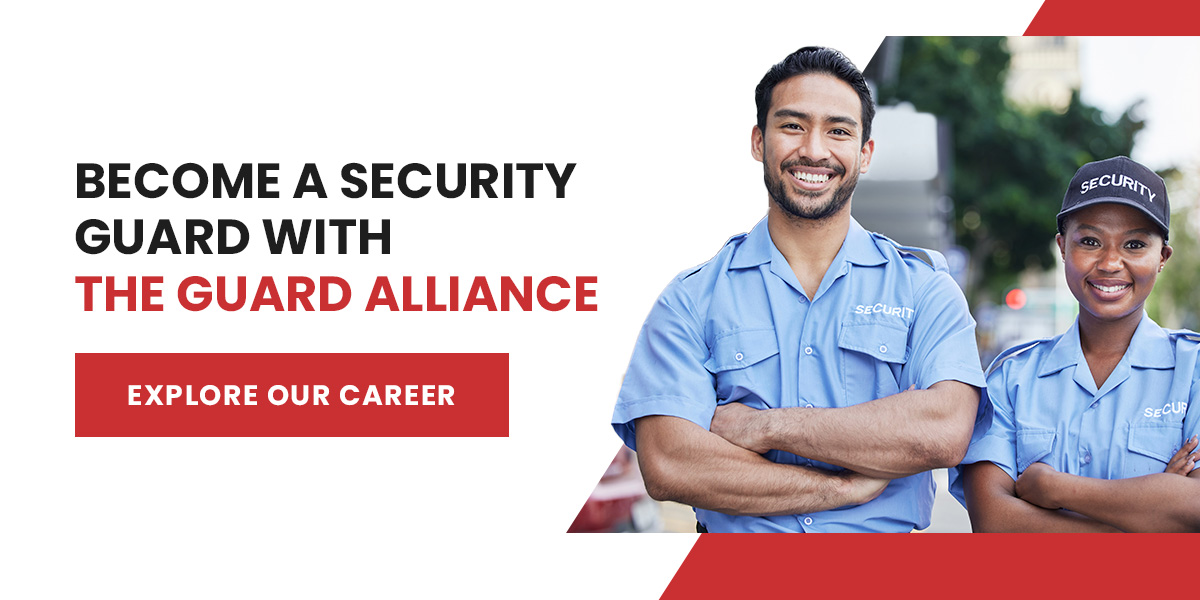 Become a Security Guard With The Guard Alliance
Are you ready to become a security guard in Pennsylvania? The Guard Alliance is a minority-owned security company providing clients with various security guard services. We've been a trusted company in the industry since 2010.
With us, you can find fulfilling work as a security guard in Pennsylvania. We provide training and continuing education so that you can grow your career and expand your network. Explore career opportunities at The Guard Alliance today, or contact us with any questions.