Becoming a security guard in Texas can help you find a fulfilling career that allows you to develop different skills, such as communication, self-defense and networking. Working as a security guard ensures you'll never have a dull day, especially if you're working events or as a bodyguard to high-profile individuals.
However, becoming a security guard means you must meet the basic requirements to obtain a license, including being employed by a private security company, completing Level II training and finishing your application. Below, you'll learn more about the different security guard levels in Texas and how you can obtain your security guard license so you can start a new, exciting career.
Security Guard Levels in Texas
Texas has three levels for security guard employees and licenses. Each level has unique requirements that allow security guards to complete specific tasks. The three security guard levels in Texas include:
Level II: This is the most basic level for security guards and is covered by standard training. Level II security guards are limited to tasks such as reporting and observation. Level II guards are generally used where an armed guard may cause concern, such as gated communities, hospitals and schools.
Level III: These guards are also known as armed security guards. Level III guards have the expertise and training to carry weapons, such as firearms or batons. Security guards who want to gain Level III authorization will need extensive training and testing before they're approved to carry a weapon. Level III security guards are employed in high-risk industries or areas, usually businesses or locations that need additional protection due to the presence of valuable assets. Level III guards are in high demand due to their protective capabilities.
Level IV: These guards are known as bodyguards or personal protection officers. Level IV security guards provide critical protection for their clients. These security guards often work for high-profile individuals, such as celebrities, politicians or business executives. Bodyguards can also be employed at public and private events to protect guests.
Your training to become a security guard will cover Level II employment opportunities, but you can always seek additional training to work as another type of security guard. Continue reading to learn more about how to get a security guard license in Texas.
6 Steps to Become a Certified Security Guard in Texas
Security guards in Texas must meet basic requirements before receiving a license that allows them to officially hold positions in the state. You can use the following six steps to learn how to become a security guard in the state and how you can advance in the industry.
1. Meet the Basic Requirement for Texas Security Licenses
Texas has specific requirements you must meet before applying for a security license. These requirements ensure employers can look for trustworthy candidates to protect their assets or themselves. The basic requirements you must meet before receiving your security license include:
Age: You must be 18 or older to apply for a license. However, you can start researching your requirements and coursework before you turn 18 to help you be more prepared. Preparing ahead of time allows you to gain a competitive edge over other applicants, making it easier to find work sooner so you can start your training.
Criminal background check and fingerprinting: You can't have a criminal record or be under investigation to apply for a security license. You must complete a background check and submit your fingerprints when you apply. You can challenge your background check results if they're inaccurate.
Language and citizenship: You must be able to speak and write English to become a Texas security guard. Applicants will also need to have United States citizenship or authorization to work in the U.S. You will need to submit your government identification, such as a driver's license or state ID, to prove your work authorization.
Texas security sponsor: A Texas-based security company must employ you before you can start your application. Your company will complete the employment section of the application.
Approved coursework: All applicants need to take Level II training courses. In most cases, your employer will offer this training course so you can complete the education and training requirements. However, you may need to work with a training school to complete your coursework if your employer doesn't offer it to you. You can find a complete list of approved training courses on your application.
Specialized training: You can seek additional education to work in a specialized field or at another level, such as an armed guard or a bodyguard. Additional training will usually require you to complete Level III or IV coursework, depending on your career goals.
Application and fee: You can complete your application once you've met the requirements above. You'll need to use the online application, which is available through the Texas Online Private Security (TOPS) portal. If you need help, your employer should be able to guide you through the application. You'll also need to pay a $40 licensing fee.
2. Apply for Jobs With Private Companies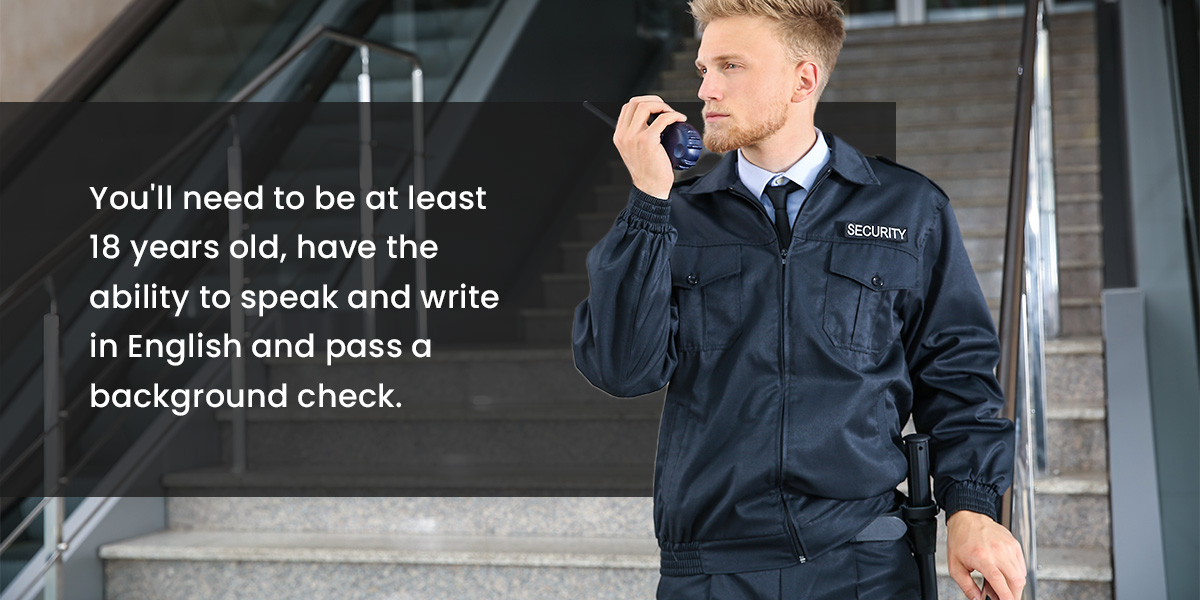 You need to register with the Texas Department of Public Safety (TDPS) before you can apply for your license. The Private Security Bureau (PSB) oversees the TDPS and security guard licensing. You must have a job with a Texas-based private security company before you can register with the TDPS and obtain a license through the PSB.
Many security companies have employment requirements that overlap with many of the requirements for a security guard license. For example, you'll need to be at least 18 years old, have the ability to speak and write in English and pass a background check. Other requirements can vary based on the company. Your employer usually supplies your training to help you meet your application requirements.
3. Complete at Least Level II Training
You can complete your training after finding employment. You can find a list of approved training, coursework and continuing education through the TOPS portal. The TOPS must approve the training, or it won't meet your application requirements. A Level III or IV instructor or training school must administer Level II training under TDPS guidelines. The TDPS may also allow you to receive training through a private security company.
You'll receive a certificate of completion after your training is complete. The TOPS requires a copy of this certification to confirm you've completed the required coursework for your license.
4. Complete Your Texas Security License Application
After completing the steps above, you can submit your application through the TOPS portal. You can use the online portal and application if it's convenient, or your can send your application through the mail with your documentation. Even if you apply online, you must make an appointment to have your fingerprints recorded for the background check portion of the application.
You'll receive your registration after you've finished your application. Certification can take between four to six months, and the entire process can take approximately two months from your employment to your certification.
5. Consider Additional Training
Additional training isn't necessary for your security guard license, but it can open up more opportunities for your career growth. New training opportunities may include working to become a Level III or IV security guard or a security guard for specialized industries. You can also gain a competitive edge in your career field, allowing you to progress sooner than others with less training.
6. Keep Up With Your License Renewal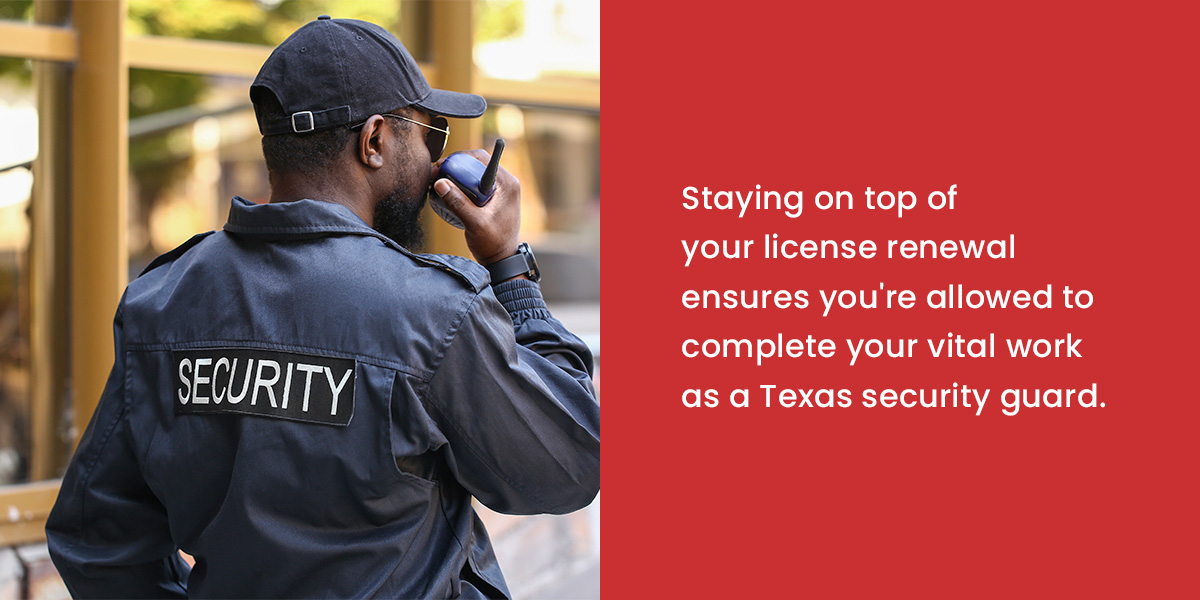 You must renew your license every two years after the date you receive your new license. You can complete the renewal process online, but you'll need to submit another background check, which includes scheduling another appointment for fingerprinting.
You can only renew your license 60 days or less from your expiration date. You can renew after your expiration date, but there will be additional fees through the TOPS portal. Staying on top of your license renewal ensures you're allowed to complete your vital work as a Texas security guard.
What to Expect as a Security Guard in Texas
Security guards are responsible for different tasks based on their industry and license level. For example, Level II security guards often perform foot patrols for their employers and supervisors. These guards may look for unusual activity, hazards or maintenance issues and report them to their supervisors.
Security guards are also responsible for responding appropriately to emergencies based on the standards laid out by their company. Emergency responses can include:
Assisting with evacuations
Contacting management or supervisors
Checking alarm systems for additional information
Responding to incidents and creating incident reports
Security guards can also work as a team to protect customers, at security gates, in schools or in hospitals. Higher-level security guards will have more responsibilities than Level II guards, which are usually outlined in the employment information.
Benefits of Being a Security Guard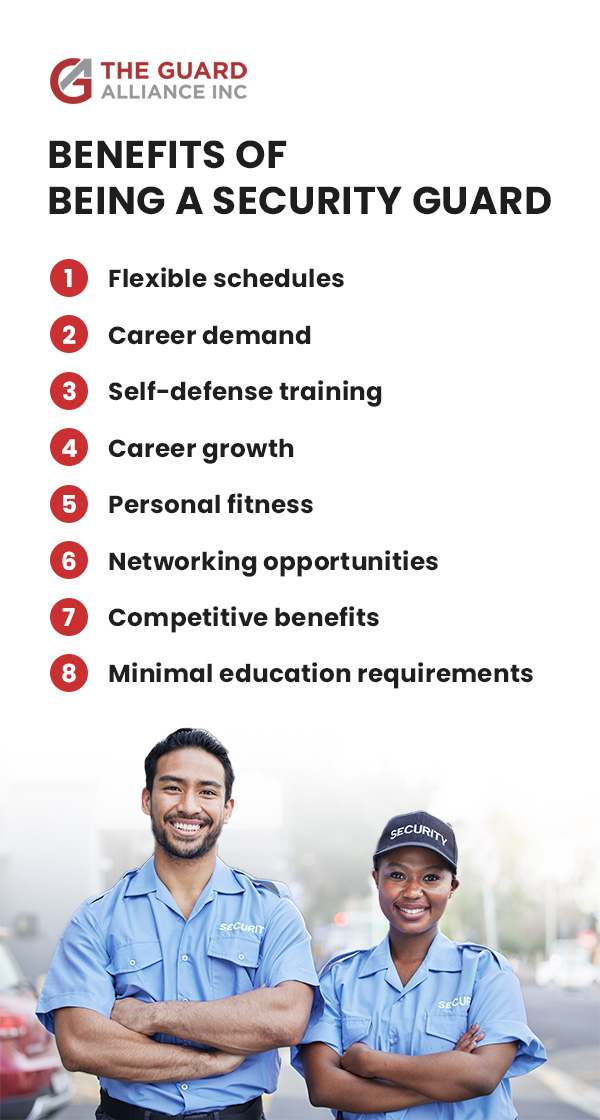 Security guards provide critical protection for their clients or employers, but being a security guard also has personal and professional benefits. Some of the most notable benefits of security guard work include:
Flexible schedules: You can find work that fits your schedule since security guards are always needed. For example, you can choose a night shift if you need time throughout the day. You can also work the standard nine-to-five or on weekends and holidays. Security guards can maintain a better work-life balance with the flexibility this job offers.
Career demand: Security guards are critical employees for businesses and people. You'll never find a shortage of jobs since there are always assets or valuables that need protecting. You can work almost anywhere, creating more job security to help you feel reassured about your future. Security guards can also find positions suitable to their lifestyle and training, such as video surveillance, event security or patrolling.
Self-defense training: Security guards gain valuable self-defense skills through their training and work. You'll be able to use these skills daily to protect yourself and your family, whether you're on or off the job. You'll have access to even more self-defense skills if you become a Level III or IV security guard.
Career growth: Security guards rarely remain stagnant in their industry. There are many opportunities for upward growth. While you'll start out as a Level II security guard, you can work your way up with additional training opportunities, allowing you to work different jobs and develop new skills. Many security guards use their learned skills to advance into other fields, such as law enforcement or correctional facility guards. Some security guards even become cybersecurity professionals.
Personal fitness: Security work is mostly active, requiring employees to be on their feet during patrols or during emergency or hazard response. If you're looking for fulfilling work that helps you maintain your physical fitness, security work could be right for you. However, people who prefer sedentary jobs can also find work. You can find work in video surveillance where you have little daily activity, allowing for more opportunity to physically rest while still encouraging some activity during emergency response.
Networking opportunities: You'll work with different professionals during your time as a security guard. You'll have the opportunity to talk with others and make personal connections, creating new opportunities for growth. The people you meet through your work can help you find higher-paying jobs or recommendations for new and exciting career fields.
Competitive benefits: Employers offer unique benefits to attract qualified security guards due to high demand. You can find positions with comprehensive health care, paid time off, opportunities for advancement, pay raises and more. You'll be able to find work that benefits you and your family, and you can even negotiate for more pay or benefits with specialized training.
Minimal education requirements: Compared to other fields, you're not required to have more than a high school diploma to work in security. Your employer or training school will provide all the training you need, so you don't need an advanced degree to apply for your license and start working. While some security positions prefer post-secondary education, most companies have minimal education requirements, meaning anyone can become a security guard.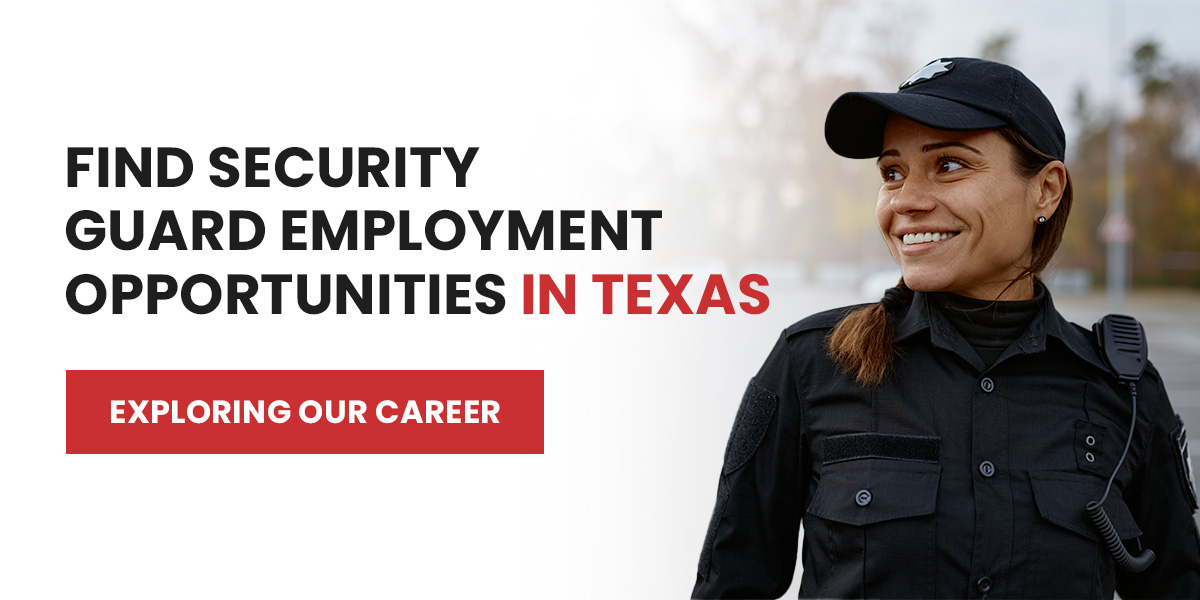 Find Security Guard Employment Opportunities in Texas
The Guard Alliance is a minority-owned security company that employs unarmed, armed, fire watch and on-site security guards to benefit our clients. We've provided quality security services since we were founded in 2010. We can help you find a fulfilling career as a security guard in Texas, where you'll get to work with a broad range of clients. You'll have the opportunity to network while developing your skills so you can advance to bigger and better positions.
We provide all the training you need and continuing education courses to help you stay prepared while encouraging upward growth. You'll have different opportunities for advancement, whether you want to work as a Level II, III or IV security guard. Get started by exploring our career opportunities or contacting us with any questions.