Working as a security guard is a rewarding and demanding profession. Security will always be a necessary industry to keep people and property safe and protected, so no matter where you are situated, there will likely be a demand for security personnel.
Most states have unique requirements and guidelines for how to get a security guard license. However, there is no state security guard license or certificate in Massachusetts, which means the state has no government-approved courses for gaining this credential.
However, employers do regulate security guards in Massachusetts, as does the MA Watch Guard Patrol Agency. Training courses are not required by the Massachusetts state for unarmed security guards. But other positions including specialized or armed security guards and working in a security position for the government will require extra training or exams. This article will give you all the details on how to become a security guard in Massachusetts.
How to Become a Security Officer in Massachusetts
In Massachusetts, security officers are called watch guards. Even though you don't have to obtain a security officer license in Massachusetts, there are basic requirements that you must meet.
Meeting the Basic Requirements to Be a Massachusetts Watch Guard
You are at least 18 years old.
You are a United States citizen or a registered resident who can legally work in the U.S.
You have a clear record and will pass all background checks.
Any substance tests you take should return clean. When you work as a security guard, substance checks may be ongoing.
Also, consider that security positions can be taxing in every aspect. You need to be physically, emotionally and mentally strong to withstand some of the demands of a job in security, as guards are often faced with challenging situations like crimes and medical emergencies.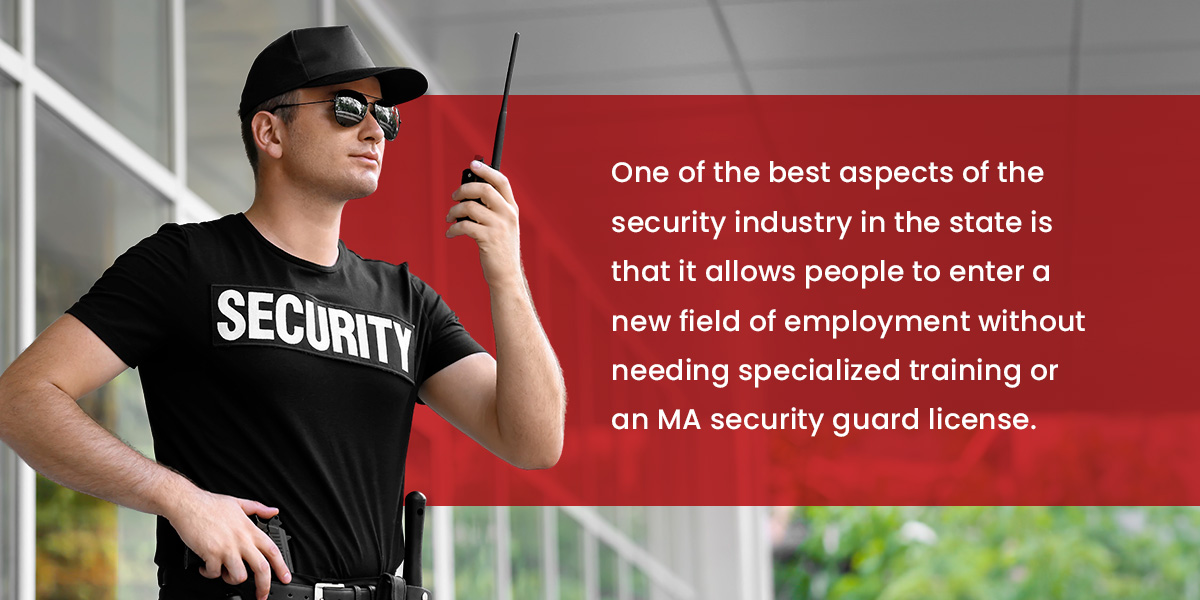 Getting Hired as a Watch Guard
One of the best aspects of the security industry in the state is that it allows people to enter a new field of employment without needing specialized training or an MA security guard license. As long as you meet the basic requirements, you can start applying for jobs.
Applying for Jobs at Private Companies
Private security companies are great launching pads for work as a watch guard. Some companies provide their staff with training opportunities and the experience needed to further their careers. On the other hand, some companies may want to see that you have some related training that can serve you on the job. You may be able to increase your chances of getting hired by having a certificate or experience in practical areas like first aid, patrol and observation, security resources, customer service, incident response and legal matters.
Applying for Government Positions
If you want to apply for government work — such as a security position with the Department of Correction — the process is slightly different. Obviously, a Massachusetts security license isn't a prerequisite, but there are still specific steps you must take:
You will need to take the appropriate Civil Service Exam. The Correction Officer I exam is open to the public. Consider the exam application opening dates, deadlines and fees.
The next step is to go through the pre-screening process. This involves providing the Department with all required documents, including your completed application form, GED if applicable, Social Security card and other necessary paperwork.
You will also need to pass a physical fitness test, psychological testing and drug screening.
Consider Additional Training or Licenses
To expand your prospects in security, you may want to consider additional training courses and licenses that can further your growth. For example, if you want to work as an armed guard, you will need a License to Carry (LTC). In Massachusetts, you must be at least 21 years old to apply for your LTC.
What to Expect as a Security Guard in Massachusetts
Daily tasks will vary depending on your position, your level of experience and even where you are stationed. In general, you can expect to do the following duties as a watch guard:
Patroling vacant areas or sites with occupants.
Working at security gates to monitor who enters and exits.
Assisting with urgent issues such as medical emergencies or thefts.
Checking alarm systems and responding to alarms.
Ensuring visitors obey a site's bylaws.
Writing up incident reports.
Overseeing public events.
Keeping the site you are working at clean and handling other non-security tasks including admin or giving directions.
Benefits of Being a Massachusetts Security Guard
Working in security requires discipline, skill and sacrifice, but there are also many benefits:
Security is an accessible field: Today's labor market is full of jobs that require advanced degrees or years of experience, making it difficult for many people to find employment. Thankfully, the security sector is accessible. You do not need any specialized training or experience to get started — in Massachusetts, you don't even need a security license to start looking for work.
Security jobs are in demand: The potential for security job opportunities across the states is plentiful. Most companies, organizations, events and buildings require security of some kind. Whether it's monitoring the gates of a secure complex, providing security at special functions or being a personal bodyguard, security jobs are always in demand.
You receive training: One of the immediate perks of landing a security job in Massachusetts is that your company will provide you with basic training. As your career progresses, you may be able to access more specialized training programs.
You can build a diverse portfolio: The security industry is incredibly diverse. You will often find that your daily tasks cover everything from patrolling and monitoring CCTV to enforcing bylaws. Plus, you may be surprised at the broad range of clients you get to work with!
You get to serve your community: The best part of the job is that you get to serve your community by protecting people and property.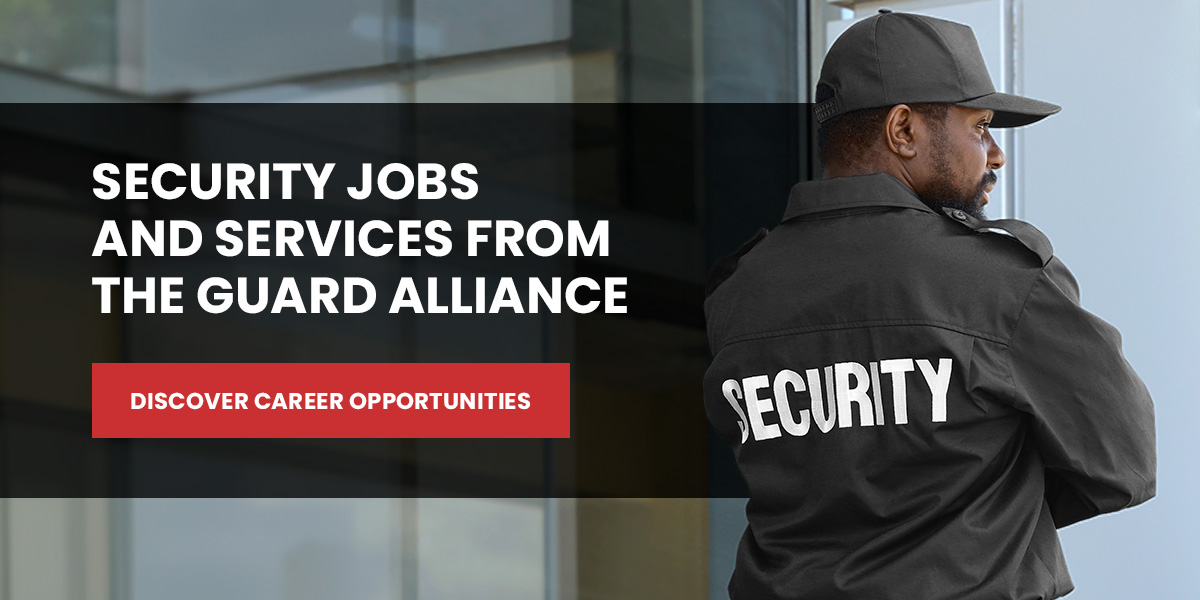 Security Jobs and Services From The Guard Alliance
Are you ready to become a security guard in Massachusetts? Entering the security field is a unique experience abounding with opportunities to grow your career. The Guard Alliance is a minority-owned security company that serves our team with training experiences and rich opportunities. We also serve our clients and communities with personalized armed and unarmed services they can rely on.
At the Guard Alliance, you can explore fulfilling job opportunities and pursue our special training courses that equip you to always give your best on the job. Discover career opportunities and our security services at The Guard Alliance, or contact us today to learn more.